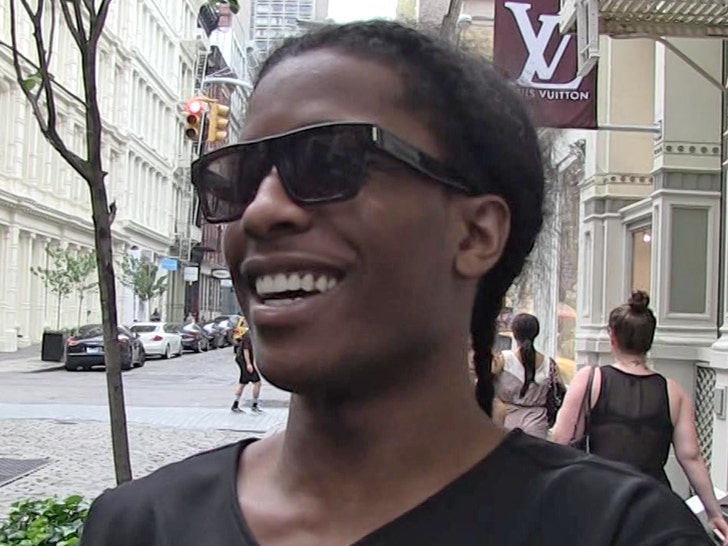 Breaking News
TMZ.com
A$AP Rocky did not beat the rap in Sweden, because the judges in his assault case have found him guilty … but he will NOT have to go to prison.
The 4 judges in the case issued their written ruling Wednesday … with the conclusion A$AP was guilty of assaulting a man during a street fight in Stockholm. The judges said Rocky, and his 2 friends who were also standing trial, "were not in a situation where they were entitled to self-defense."
The case hinged on whether A$AP threw a bottle at the victim during the all-out brawl in late June. Prosecutors argued Rocky hurled the bottle and badly cut the guy, but they couldn't produce a single witness who saw a bottle fly during the melee. Rocky conceded he was holding a bottle for protection, but put it down and it never made contact with the guy.
The judges said prosecutors did not prove the bottle was used to hit the victim. As a result, the judges said the crime did not warrant any further time served, and added Rocky will NOT have to do community service.
A$AP and the co-defendants will, however, have to pay restitution to the victim, and also cover Sweden's court expenses. The judges did not announce how much that will be.
As we reported, the alleged victim was the initial aggressor, harassing Rocky and his crew despite pleas from the rapper to leave them alone. The guy also attacked Rocky's bodyguard before A$AP took care of business.
After a month in jail and a 3-day trial, the judges allowed Rocky to fly home to the states while they decided his fate. Prosecutors wanted Rocky to remain in jail pending the verdict, because they said he was a flight risk.
As we reported … Rocky performed last weekend at the Honda Center in Anaheim, CA for the first time since his arrest and told his fans, "Hopefully I'm not guilty and hopefully we ain't gotta go back to jail or nothing like that."
Rocky seemed to indicate he would have returned to Sweden to do the time if found guilty — however, that won't be an issue.