The Washington Post released their analysis of book challenges they had obtained from PEN America researcher Tasslyn Magnusson. These 1,065 challenges, which were filed during the 2021-2022 school year, extended over 153 school districts and 37 states, and totaled 2,506 pages.
They also tended to target books with similar content, specifically LGBTQ+ topics. While a desire to keep sexual content away from children was cited in many complaints by book challengers, sometimes merely featuring queer lives and stories in a nonsexual way was enough for a book to be contested. Thirty-seven percent of challenges that complained about LGBTQ+ titles said the books should be taken out of school libraries just because they centered queer lives and stories.
15 Most Common Complaints Cited in 986 Book Challenges from 2021-2022 School Year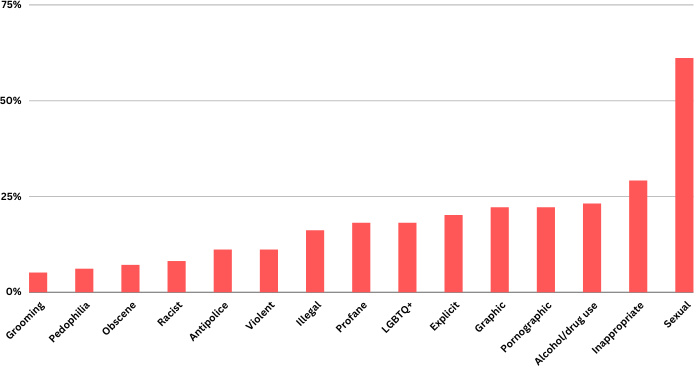 University of Connecticut assistant professor Amy Egbert, who studies youth mental health, commented on the book challenges, saying, "Any time a certain identity is stigmatized, that tends to lead to more discrimination, more bullying, increased mental health challenges. Everything we know suggests this is very harmful to LGBTQ kids."
Despite the clear downsides to removing these books, challenges against them have increased. Data from the ALA shows that from 2000-2010, challenges against LGBTQ+ books only accounted for less than 1-3%. In 2018, that percentage increased to 16%, 20% in 2020, and 45.5% in 2022.
Additionally, it seems that a majority of book challenges can be attributed to a very small number of people — 11 to be exact. Washington Post reports that people who filed 10 or more challenges accounted for 6% of all book challengers, and had filed 60% of all book challenges. One man even filed 92 book challenges. These repeat challengers don't always work alone, however. Sometimes they're assisted by conservative groups like Moms for Liberty, which Book Riot has covered extensively.
Find more news and stories of interest from the book world in Breaking in Books.
Also In This Story Stream