Chandler Jones would BEAT THE HELL out of his famous UFC brother, Jon Jones … so says the Arizona Cardinals DE himself, who tells TMZ Sports, "I'll beat Jon Bones' ass!!"
"Listen, he has the longest arms in the UFC," Chandler says … "My arms are longer than his. That's my brother, I love him to death, but I'll kick his ass!"
The clip is hilarious … but Chandler seems dead serious — telling us his older brother would take the first real L of his career if the two really did square up.
And why? Chandler says it's all about his power.
"I would wrestle him. I'm more strong than he is," Chandler says … "Listen, I'm not trying to brag, but I go against 300-pound men every day. Jon Bones is like, what, 235?"
Jon fights at 6-foot-4, 205 pounds … while Chandler plays at 6-foot-5, 265 pounds. The tale of the tape is interesting …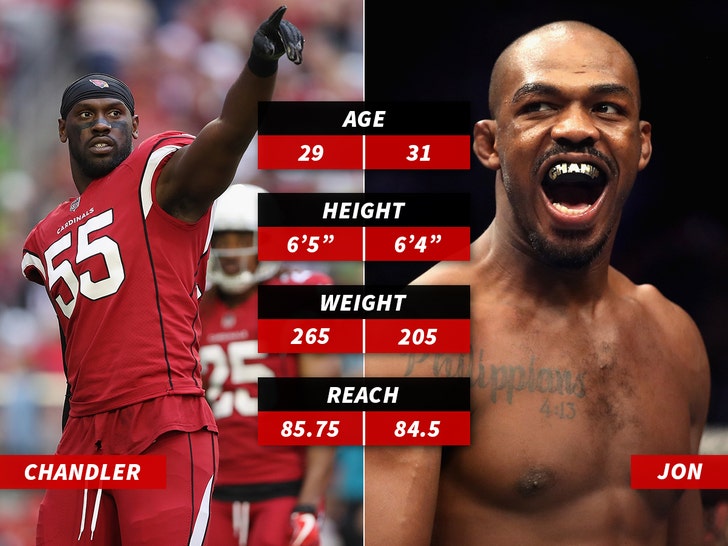 Getty
As for Jon's input on the matter, Chandler says even the UFC superstar knows he'd get wrecked in the bro-on-bro fight!!
"Easy work," Chandler says.
BONUS — Chandler also had some trash talk for Jon's rival, Daniel Cormier … and thinks he'd be able to beat up Cormier in a fight too!!!!