Kylie Jenner just boarded a private plane to her birthday yacht party with a very interesting piece of luggage … a garment that certainly looks like a WEDDING DRESS … but TMZ knows otherwise.
Check out this pic from the tarmac Tuesday afternoon at the Van Nuys Airport … there's a flowing, feathery, white dress protruding out the bottom of a garment bag as it's loaded into the plane. In the worker's other hand — what appears to be a suit … possibly a tux.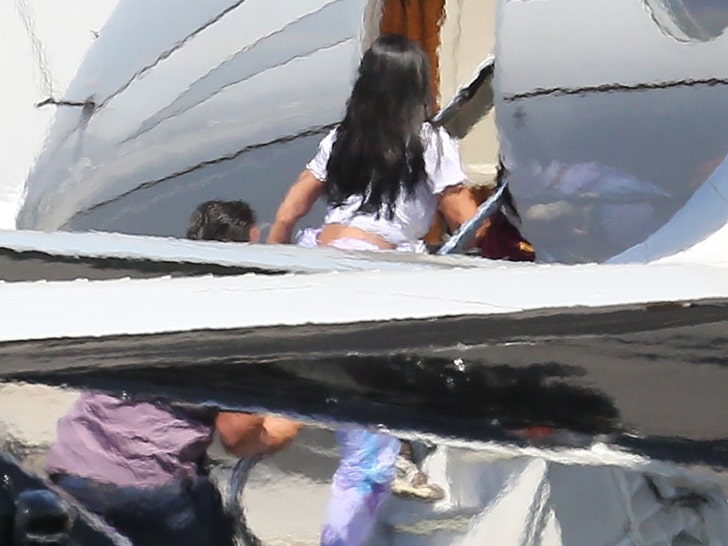 X17
Don't cue the wedding bells just yet though … several of our Kardashian-Jenner sources tell us Kylie's NOT walking down the aisle with Travis Scott.
Fact is … Kylie is notorious for messing with people, and it seems odd she would leave the train to her wedding dress exposed, knowing full well there are paparazzi watching.
What's more … multiple Kardashian-connected sources tell us, she's not getting married on the trip.
As we first reported … Kylie is jetting off to Italy begin her 22nd birthday celebration, which is going down on the $250 million mega-yacht, "Tranquility."
Noticeably absent on the flight — Caitlyn Jenner and all of Kylie's sisters. Of course, Kourtney's been vacationing in Europe, and it seems she'll join the party at some point.
One source says it's definitely NOT a wedding because Kim and Khloe are not going to join on the trip.
You could argue … Travis set the stage when he gifted Kylie a garden of rose petals Monday, covering the floor of her mansion. Travis wrote, "We're just getting started."
FYI … Kylie and Travis have been together for a little over 2 years. Marriage is certainly in the cards … just not on this trip, we're told.