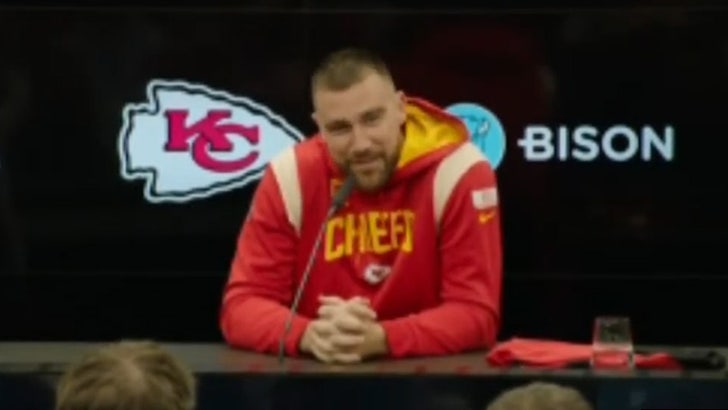 Kansas City Chiefs
Travis Kelce didn't seem to be too keen on answering questions about Taylor Swift while out in Germany on Friday … especially when the inquires turned to whether or not he was "in love" with his new girlfriend.
Kelce sat down with media members out in Frankfurt to preview the Chiefs' Sunday international game against the Dolphins … when suddenly, one reporter began prodding the tight end about his latest romantic partner.
First, the journalist wanted a relationship update … which Kelce kind of gave.
"The latest status is I got to see her last week," he said with the smile. "That's the latest status right there."
Then, the questioner asked straight up, "Are you in love?"
Kelce, however, dodged the question like it was a linebacker in the middle of a football field.
"I'm going to keep my personal relationship personal," he said.
The Swift questions didn't end there, though … because just before Kelce got off the podium, one reporter wanted to know if Swift would be in attendance for the big game against Miami at Deutsche Bank Park.
But, as he did with the previous questions, Kelce sidestepped the inquiry as well.
Of course, we shoulda seen this one coming … after all, Kelce promised a few weeks ago he was going to keep his relationship with Taylor a little more under wraps — and while he's bent the rules here and there, it seems he's done now.