There's a Hollywood connection to a deeply disturbing crime … the son of a powerful former Hollywood agent has been booked for murder after a woman's dismembered torso was found in a bag.
LAPD arrested 35-year-old Samuel Haskell Wednesday following the grisly discovery — the bag containing the female victim's body was in a dumpster in Encino, CA. Haskell's wife, Mei Haskell, and her parents are currently missing. The coroner hasn't identified the victim yet … but in the meantime, Haskell's being held on $2 million bail.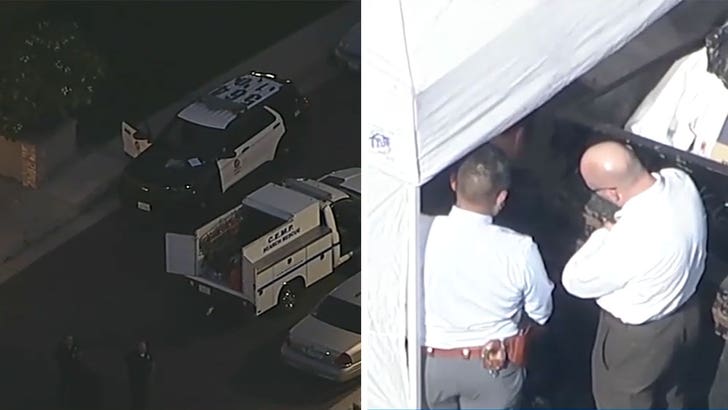 ABC 7
Haskell's father, Sam Haskell Sr., is currently the President of Magnolia Hill Productions — the company behind several Dolly Parton specials — including "Dolly Parton's Magic Mountain Christmas" and "Dolly Parton's Coat of Many Colors."
Haskell Sr. was once a powerful agent at William Morris Agency … he retired as an agent in 2005, but during his 27-year-career represented the likes of Dolly, Whoopi Goldberg, Ray Romano, George Clooney, Martin Short, Kirstie Alley, Tony Danza, Debbie Allen, Kathie Lee Gifford … and even King Charles' younger brother, Prince Edward.
As for the criminal investigation into Haskell's son, investigators are currently searching through Junior's Tarzana home where he lived with his wife and her parents Yanxiang Wang and Gaoshen Li.
So far, police say they've found evidence of a crime with blood in the home.
The dismembered torso was reportedly found Wednesday by a homeless person who was sifting through a strip mall dumpster. Haskell Jr. and Mei have 3 kids who are safe in the custody of L.A.'s DCFS.
We've reached out to Haskell Sr. at Magnolia Hill Productions … so far, no word back.