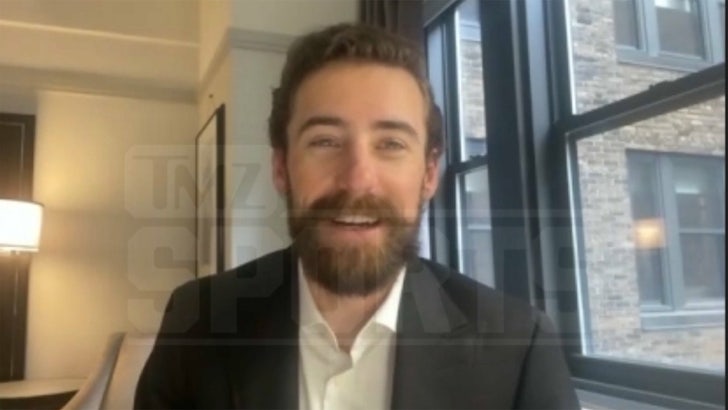 TMZSports.com
Ryan Blaney is just days removed from the biggest moment in his racing career … so, how's the 2023 Cup Series champion celebrating?! TMZ Sports asked the NASCAR star.
"I'm going on vacation this upcoming weekend, so I'm excited for that!" Blaney told us … adding the vacay was planned before winning the title, but it certainly makes the trip "even more special now," according to the driver.
But, even more so than a boy's trip, Blaney says he's looking forward to spending time with the team behind the great season.
"I'm excited to go to our race shop [Wednesday] to see everybody. See all the men and women who are a part of Team Penske in North Carolina. So that's gonna be another special moment to spend with everybody."
Blaney, at just 29 years old, secured the coveted title with a second-place (behind Ross Chastain) finish during Sunday's season finale at Phoenix Raceway … earning Ryan enough points to win the Cup Series title!
Ryan comes from a racing family … his dad Dave made nearly 500 NASCAR starts. Grandpa was a driver, too — mostly on dirt tracks — and the racing lineage was a huge inspiration for the new champion.
"I was lucky enough as a kid to grow up around it, with my dad racing, him coming from dirt tracks just like my grandfather and I just saw it at a young age. As a kid, I just wanted to do what my dad did. I was fascinated by it, so he was obviously a huge part of getting me going, and supporting me throughout the way."
Ryan continued … "Still having my family in my life the way they are, supporting me week in and week out, supporting me in my adulthood, is something that I can never thank them enough for."
FYI, Kyle Larson, William Byron, Christopher Bell and Denny Hamlin rounded out the Cup Series standings.
As for when he turns his attention to next season … here's what Ryan told us.
"Now. But at the same time, I'm still gonna enjoy this one. I don't want to look ahead too much."
Blaney continued … "I think when it gets to the New Year, when January rolls around, 'Okay, it's time to go back to work! What do we have to do to get another?' But until January, I'm enjoying this one, and then I'll focus on the new one!"