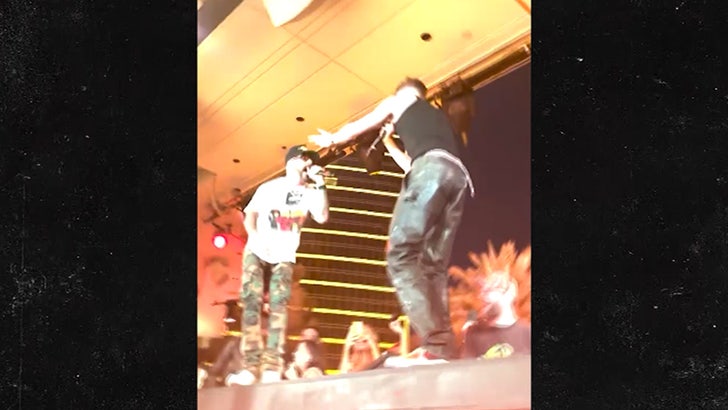 Courtesy of Wynn Las Vegas
La parada de AJ McLean en el Strip de Las Vegas —durante las festividades del Gran Premio de Fórmula 1— tuvo a las estrellas dando vueltas alrededor del glamoroso evento y AJ subió al escenario con The Chainsmokers.
La estrella de los Backstreet Boys apareció en el XS Nightclub en el Wynn Las Vegas la noche del jueves, cuando el trío realizó una interpretación especial del mega-hit "Everybody", pero no antes de que la superestrella de la F1 Lewis Hamilton y Will.i.am arrancaron las cosas en la exclusiva ceremonia de apertura solo para invitados la noche anterior.
El viernes, la TikToker Alix Earle, se hizo cargo de la cabina del DJ con Swedish House Madia, mientras que Leo DiCaprio, Tobey Maguire, French Montana y Saweetie estaban de fiesta en VIP.
Todo el fin de semana estuvo lleno de celebridades en la ciudad para la carrera del sábado por la noche, donde RiRi y su hombre A$AP Rocky se sumergieron en la acción. Sin duda fue un buen descanso de la realidad para el rapero, antes de su comparecencia ante el tribunal el lunes en su caso de tiroteo.
La carrera fue la primera de Fórmula 1 en Las Vegas desde el Gran Premio Caesars Palace de 1982 y Justin Bieber estaba viviendo en el carril rápido, ya que fue seleccionado para agitar la bandera a cuadros como Max Verstappen del equipo Red Bull cruzó la línea de meta en primer lugar.